I hate Bionicle…
..There. I said it. I'm pretty sure I'm not the only AFOL who feels the same way.
One of the (few) things that really bugs me about LEGO is the fact that it now has so many custom and bespoke elements. In fact, for the last several years it's been basically impossible to accurately recreate a new set with your own pieces if you don't actually own the original set. This is entirely down to the fact that there will be at least one unique element in the new set. Sometimes this may be as insignificant as a minifig, or simply a new colour for a particular element, but it's still kind of annoying and, I feel, goes against one of the main principles of LEGO.
Often these elements are so specific or ridiculous in shape that they are practically useless for anything other than their originally intended purpose and nowhere is this more evident than with Bionicle.
Despite this it appears that we do actually own rather a large amount of Bionicle sets and pieces so I thought I'd overcome my fear and loathing and see if I could figure out the point of Bionicles. And this freak is the result of my efforts.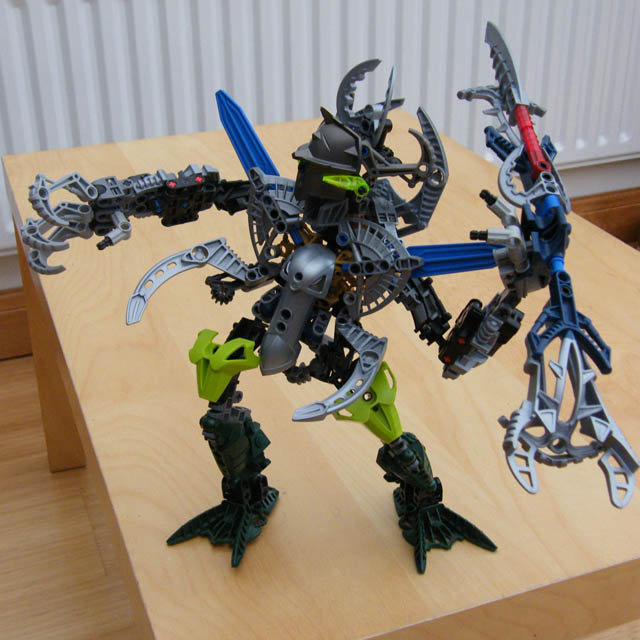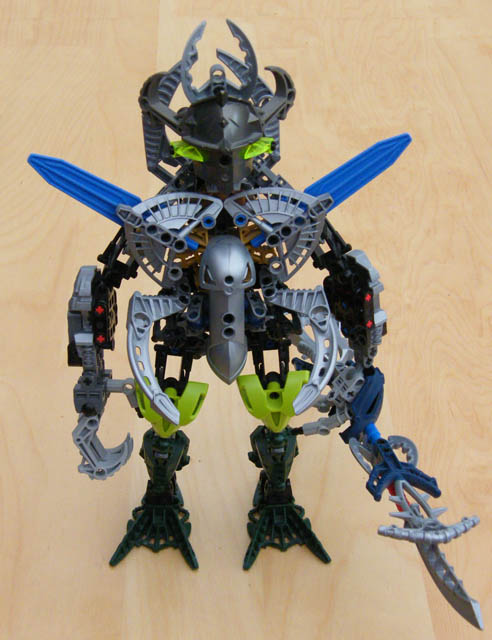 I've put a few more shots of him on my Brickshelf page too if you're interested.
I have to say, in conclusion, that actually building with bionicle was pretty much just as rewarding as building with "regular" LEGO (if there even is such a thing these days?). all the elements connect together in multiple ways and all the standard LEGO rules still apply. You can even connect most of the bionicle elements to regular LEGO too, so while I'm still not a convert, I appreciate that they haven't copped out as much as I originally thought with Bionicle. And hey, the kids like it I guess!